Filagra Oral Jelly Strawberry Flavour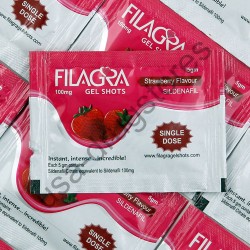 Brand:
Fortune Health Care
Availability:
In Stock
Rating :

Filagra Oral Jelly Strawberry Flavour is an oral solution, produced in form of jelly (with strawberry flavor). The medicine contains active substance Sildenafil Citrate. This drug is a phosphodiesterase type 5 inhibitor. Sildenafil Citrate drug offers a man, ability to achieve erections sufficient for sexual intercourse and for maintaining penile erections after penetration. It is also useful for treating impotence issue.
Take this one 100 mg dosage approximately an hour before the sexual activity. The oral jelly solution is absorbed after consumption much faster than a conventional tablet. The absorptions tarts in the mouth that speeds up its action almost twice. Regular conventional tablets are to be taken 15 minutes to half an hour to start, while the jelly takes much lesser time. The oral jelly affects certain enzymes that participate in the physiological response to sexual arousal. As a result of this action mechanism, the blood vessels in the penile area relax and loosen and the blood flow enhances. More flow of blood in the penile area means bigger, stronger erection. The effects of this impotence medicine last for several hours.
The oral jelly solution Filagra Oral Jelly Strawberry Flavour is sold in sachets with 100 mg of Sildenafil Citrate each. This gel shot comes in various flavors. It is highly recommended to use one sachet (100 mg) per day and not to exceed its dosage. Some men need less medicine to solve their issues and they can only use half of this sachet. On the other hand, consumption of more than one sachet content in the day can be very dangerous and it is strongly discouraged.
Filagra Oral Jelly Strawberry Flavour is generally safe, like with any other medication; you should see your physician before starting consumption of this medicine. In case, you are suffering from heart or kidney disease, it is better to avoid consumption of this medicine. In case, you are consuming any other medications, consult your doctor or pharmacist before using this oral jelly solution.
Sildenafil Citrate 100mg composed medicine may lead to some mild to moderate side effects. Some common side effects with this medicine include upset stomach, indigestion, heartburn, headache, nausea, and dizziness. These mild effects are not bothersome as they vanish soon. However, some severe side effects might include confusion, blurred vision, hypertension, difficulty breathing, hives, and priapism. These severe effects may need medical assistance.
Write a review
Your Name:
Your Review:
Note:

HTML is not translated!
Rating:
Bad
Good
Enter the code in the box below: