Kwiknic 2mg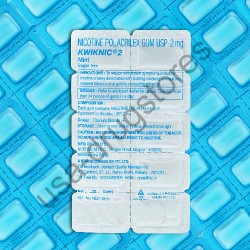 Rating :

Kwiknic 2mg is a sensational medical product that is useful for quitting smoking. It can help overcome the habit of smoking after regular use. The medicated chewable pills are composed of the most refreshing minty flavor. This nicotine replacement therapy (NRT) is available in a blister pack of 10 chewable pills. ITC Ltd. manufactures this anti-smoking medication.
Kwiknic 2mg definitely helps curb the urge or desire to smoke without producing withdrawal symptoms. You can cease smoking within few days of using this NRT. You need to follow your doctor's instructions while using this medicament. Use the recommended dose without skipping. Do not eat or drink anything 15 minutes before and after chewing the gum. Avoid chewing a gum piece too quickly. Do not chew more than a piece at a single time.
Stay away from taking one pill after another at a time, as overdose can produce side effects such as sickness, headache, stomach pain and diarrhea. You may experience mild nausea, sore mouth, muscle ache and excessive salivation. They usually subside after some time. Immediately get in touch with your doctor if you experience any allergic reaction after dosage.
To be on the safer side, prior to using Kwiknic 2mg, you need to seek medical help in case of pregnancy, breast-feeding, chronic medical issues and diabetes. At the same time, you should talk to doctor about undergoing treatment with OTC or prescription medicines. More importantly, consult doctor if you are using any other nicotine replacement therapy.
Write a review
Your Name:
Your Review:
Note:

HTML is not translated!
Rating:
Bad
Good
Enter the code in the box below: