Musli Power Xtra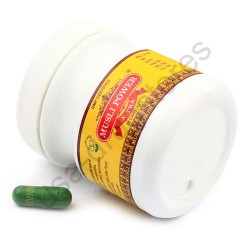 Rating :

Musli Power Xtra is a unique formulation of natural ingredients that help increase sexual desire in both men and women. Each capsule is loaded with the superior quality extracts selected from the world's most potent and exotic herbs. It is a safe and natural sexual enhancer with extraordinary efficacy. With this remedy, you can increase your sexual drive or libido.
Musli Power Xtra is a complete remedial solution for treating sexual problems in both men and women. It gives you extra power, extra pleasure and extra time to indulge in sexual activity. Although it contains many ingredients, one of the most powerful herbs is Safed Musli, a natural aphrodisiac. This herbal medicine solves erectile and ejaculation issues in men. Since it is a powerful sexual stimulant, it prolongs your sexual performance.
This natural medicine increases frequency of orgasm. Additionally, it improves overall health and vitality. It is ought to be used for at least 45 days, regularly, to notice improvement. The standard dose of Musli Power Xtra is two capsules per day. Do not skip or miss the dose, as irregular use will not yield satisfactory results. Do not take more than advised dosage, as overdose can lead to unwanted symptoms. It can be used by vegans.
Musli Power Xtra increases your sexual stamina and sexual confidence without producing any side effects. All the ingredients in this medicine are natural; hence, there are no known side effects. Keep the medicine in a cool, dry place and away from direct sunlight or heat. Do not give it to children and teenagers. Make sure you use this herbal medicine after consulting your medical advisor.
Write a review
Your Name:
Your Review:
Note:

HTML is not translated!
Rating:
Bad
Good
Enter the code in the box below: