Proscalpin 1mg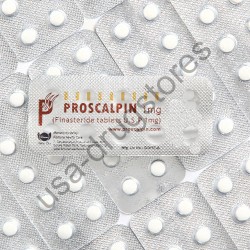 Brand:
Fortune Health Care
Availability:
In Stock
Rating :

Proscalpin is one of the most effective and safe medications used for the treatment of male pattern baldness. This medicine is manufactured by a renowned pharmaceutical called Fortune Healthcare Ltd. This medication is actively composed of a drug known as Finasteride, which is a recognized drug for male pattern baldness, also known as androgenic alopecia.
Proscalpin is a generic version of brand drug Finasteride. It is pharmacologically denoted as type II 5-alpha-reductase inhibitor. This drug, after oral administration, reduces the enzyme known as 5-alpha-reductase. With the inhibition of this enzyme, the drug stops the conversion of testosterone into dihydrotestosterone (DHT). Once DHT is reduced, the hair fall is reduced. In addition, it helps increase the re-growth of hair in terms of density and thickness.
It is imperative to use this hair fall medicine regularly to reap the benefits. The ideal dosage is 1mg once daily for prescribed duration. Take the pill orally with a glass full of water. Do not chew, crush or break the pill, otherwise the drug may lose its efficacy. You may have to take the medicine for at least 6 months to 12 months. If you do not notice improvement even after using the medicine for 12 months, seek medical help.
If you miss or skip the dose, take it as soon as possible. Do not take two doses at a time, as overdose can increase the risk of side effects. Probable side effects of Proscalpin include nausea, headache, dizziness, impotency and low sexual drive. Store the medicine in a cool, dry place and away from direct sunlight or heat. Do not give this hair fall medication to women and children. Men undergoing treatment with any medicine or suffering from any chronic illness should consult doctor before using this medicine. Irregular use of this medicine will not yield satisfactory results.
Write a review
Your Name:
Your Review:
Note:

HTML is not translated!
Rating:
Bad
Good
Enter the code in the box below: