V Wash Plus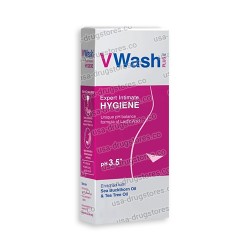 Rating :

V Wash Plus is a perfect healthcare product for intimate hygiene wash in women. For a proper health, personal care is essential, especially when it comes to intimate areas. The intimate areas of females are very sensitive and are vulnerable to infection. To maintain good hygiene near intimate areas, women should use this lotion. It not only cleanses the area, but also moisturizes and nourishes the surrounding skin.
V Wash Plus is specifically formulated to protect intimate areas from infection, irritation, itching, dryness and soreness. It helps maintain pH balance of vaginal area and forms a protective barrier. With regular use, women will experience freshness all day long. It is blended with Sea Buckthorn and tea tree oils. The lotion prevents foul odour and bacterial infestation. It is safe to use during menstruation and pregnancy.
A renowned pharmaceutical organization, Glenmark, manufactures V Wash Plus. It can be applied at any time of the day. Simply apply a few drops of lotion onto your palm. Gently massage the intimate area and rinse with penalty of water. Do not apply on infected skin and wounds. It can be used even during menstruation and pregnancy. However, it is better to have a word with your doctor before using this product.
V Wash Plus lotion is perfect for daily use. It should be used after bath, urination and sexual intercourse. If you experience itching or burning after application, wash with plenty water and seek medical assistance immediately. Do not use it for children. Store the bottle in a cool, dry place and away from direct sunlight or heat. Keep it out of the reach of the children.
Write a review
Your Name:
Your Review:
Note:

HTML is not translated!
Rating:
Bad
Good
Enter the code in the box below: